Cochrane supports EMA's policy to make drug regulatory documents publicly available, which is currently the subject of a legal challenge.
The European Medicines Agency (EMA) is awaiting a ruling from the European Court of Justice regarding whether they are legally allowed to grant public access to clinical study reports (CSRs).
CSRs are detailed documents that pharmaceutical companies submit to regulators as part of the drug authorisation process. They are often the single most comprehensive source of information on a clinical trial, giving details of the design and methods used, as well as results for under-reported outcomes like adverse effects.
EMA started proactively publishing new CSRs in 2016 – the first regulator to take such a step (The programme is currently suspended, due to the Agency's move from London to Amsterdam).  In response, two pharmaceutical companies have launched legal challenges against EMA, arguing that the information contained in CSRs should be considered commercially confidential.
An initial ruling by the European Court of Justice in February 2018 found in favour of EMA. This went to appeal and, in September 2019, an advocate general for the court published an opinion that the policy does in fact compromise commercial interests. A final judgment is expected soon. The EMA Management Board has said that, if the advocate general's recommendations are followed, "existing transparency policies would be impaired and have to be revised".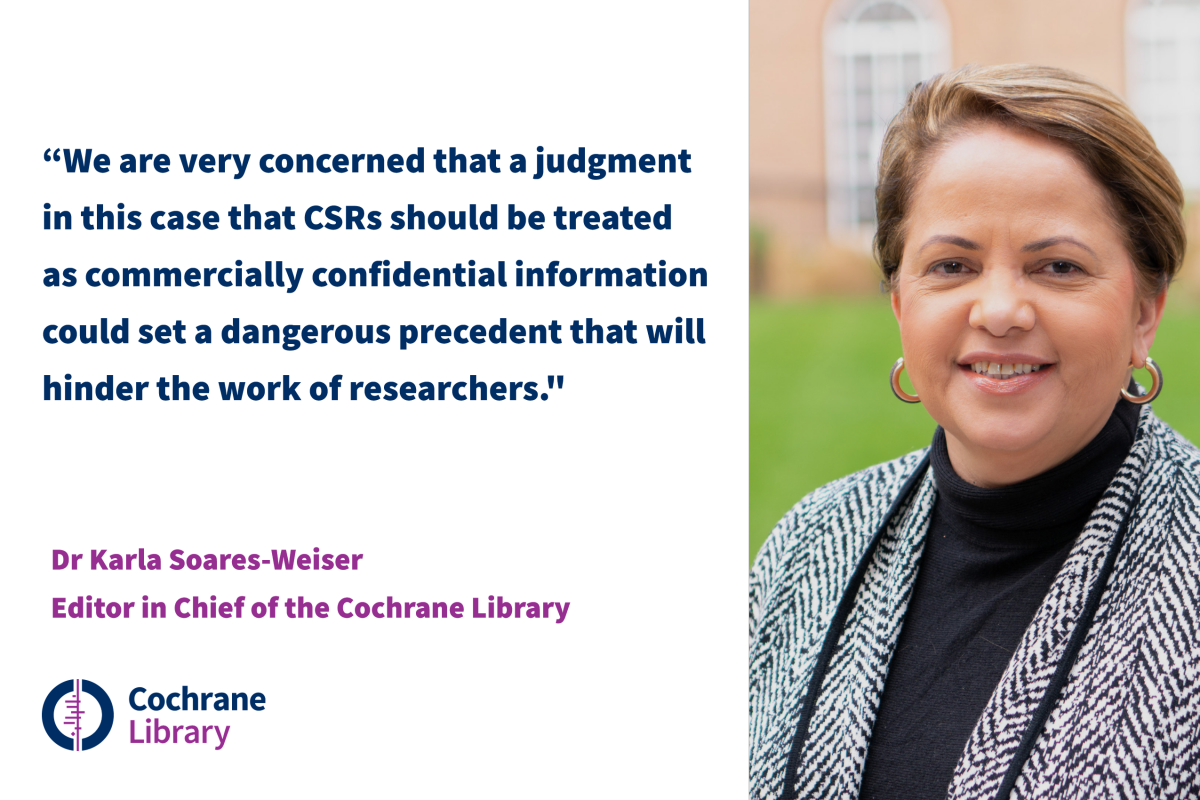 Statement from Cochrane's Editor in Chief, Dr Karla Soares-Weiser
"Much research has shown that journal article reporting of randomized controlled trials is often incomplete and that some trials are never published. Access to CSRs for re-analysis is one tool to strengthen integrity in medical research – reducing the potential for mistakes, misinterpretations, bias, evidence distortion, corruption and fraud.
EMA's transparency efforts should be encouraged and furthered, not scaled back. We are very concerned that a judgment in this case that CSRs should be treated as commercially confidential information could set a dangerous precedent that will hinder the work of researchers, slow scientific progress and – in the worst-case scenario – put people's health and lives at risk."