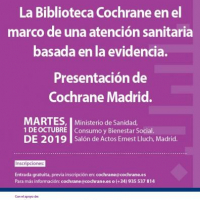 Cochrane is delighted to support the official launch of the Spanish Cochrane Library known as 'Biblioteca Cochrane' in Madrid.

'Biblioteca Cochrane' is the Spanish portal of the Cochrane Libary, an online platform providing high-quality, independently produced evidence to inform healthcare decision-making and to end-users whose preferred language is not English.
The platform, designed in collaboration with Cochrane's publisher Wiley and built by the technology platform provider HighWire, includes several features that will improve the experience for Spanish-speaking users and the ability to search health topics in different languages.
Today's event, organized by Cochrane Iberoamerica takes place at the Ministry of Health in Madrid, followed by a workshop for those interested in improving their understanding and use of 'Biblioteca Cochrane'.
Only around 6% of the world's population are native English speakers, while 75% of people don't speak English at all. This means many people do not have access to high quality health information, because it is not readily available in a language that they understand. 'Biblioteca Cochrane' first launched in the summer of 2018 making the Cochrane Library more accessible for Spanish speakers around the world. 'Biblioteca Cochrane' currently has almost 5,000 Spanish translations of Cochrane Reviews.
Xavier Bonfill, Director of Cochrane Iberoamerica said: "This event brings together the Spanish Ministry of Health with Cochrane to celebrate the history of the use of the Cochrane Library in Spain since 2003. For sixteen years, millions of Spanish citizens have had access to the Cochrane Library; the difference is that now we are able to offer a multi-language platform for Spanish speakers that integrates the Cochrane Library with a Spanish portal and search facility including Spanish translations of most Cochrane Reviews."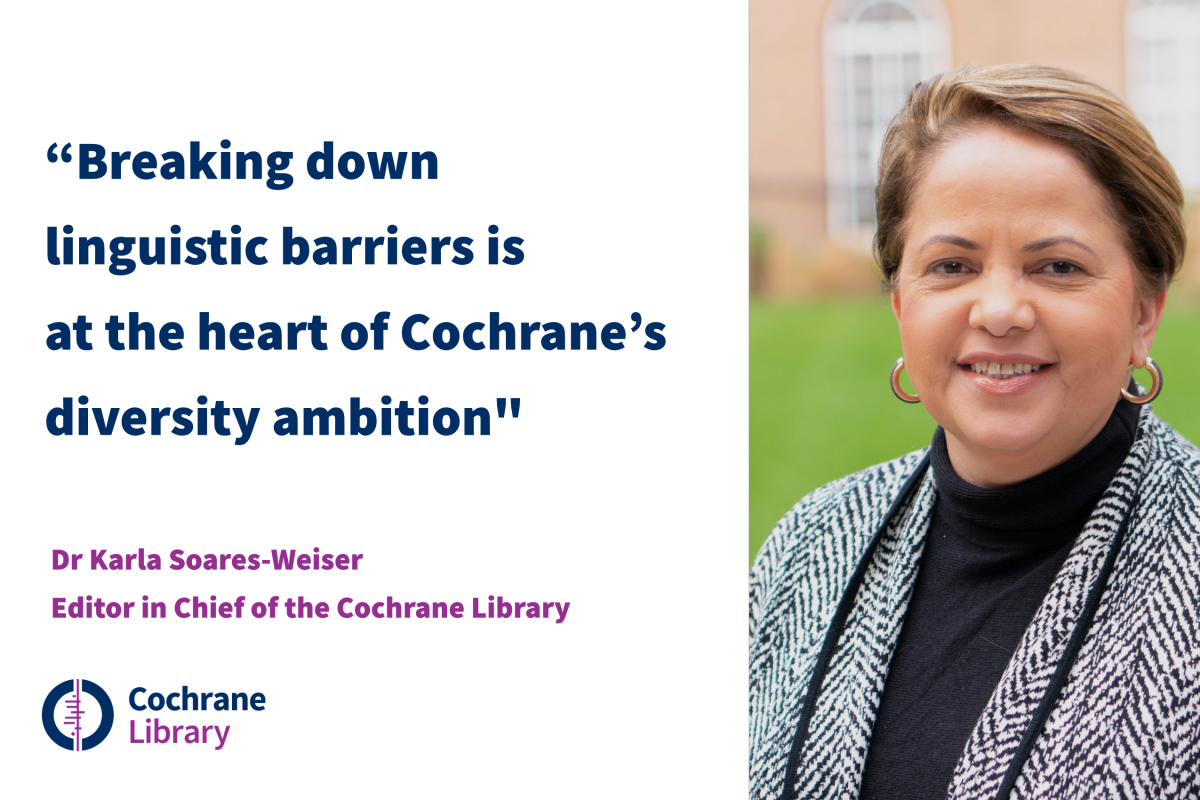 Attending today's launch in Madrid, Cochrane's Editor-in-Chief, Dr Karla Soares-Weiser, said: "Breaking down linguistic barriers is at the heart of Cochrane's diversity ambition, so, today is a wonderful milestone for Cochrane to celebrate the Spanish Cochrane Library with the Spanish Ministry of Health in this way. This is the first time the Cochrane Library has been translated and published in a language other than English, proving the feasibility and potential of it as a multi-lingual resource. This has become a beacon for other countries to follow suit in their own languages."
Today also sees the launch of two new Cochrane centres responsible for promoting Cochrane's mission in Madrid, in particular, the Cochrane Associate Centre of Madrid (Instituto Ramón y Cajal de Investigación Sanitaria (IRYCIS)/Universidad Francisco de Vitoria) and its Affiliate Centre (Faculty of Odontology, Universidad Complutense de Madrid.)
More information about today's launch event is available in Spanish.
Resources in Spanish: