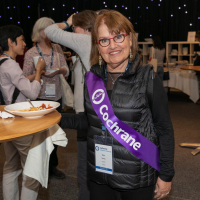 The Cochrane Community Exhibition Stand has traditionally been a hub of activity and a gathering point for both members, staff, and for those new to Cochrane. Come chat to us, get your questions answered, and learn more about Cochrane!
Our annual event, the Cochrane Colloquium, brings together members of the community, staff, and newcomers to Cochrane. Amongst the wide range of workshops, activities, social events, and support we are offering, we would like to ensure that consumers, students, early career professionals, and first time Colloquium participants have easily identifiable people to ask questions to and the chance to learn about the wide a range of Cochrane activities. At breaks or at lunch, we invite you to visit the Cochrane Community Exhibition Stand and come chat with us!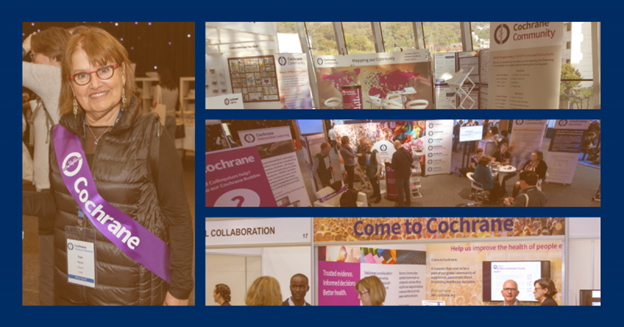 At the stand you will see people wearing a purple Cochrane sash so that you know who to approach if you have questions. Those with sashes have attended multiple Cochrane Colloquia and have a good awareness of Cochrane and our work – they are there for you to ask questions, have a chat and to network with. See you at the Community Booth!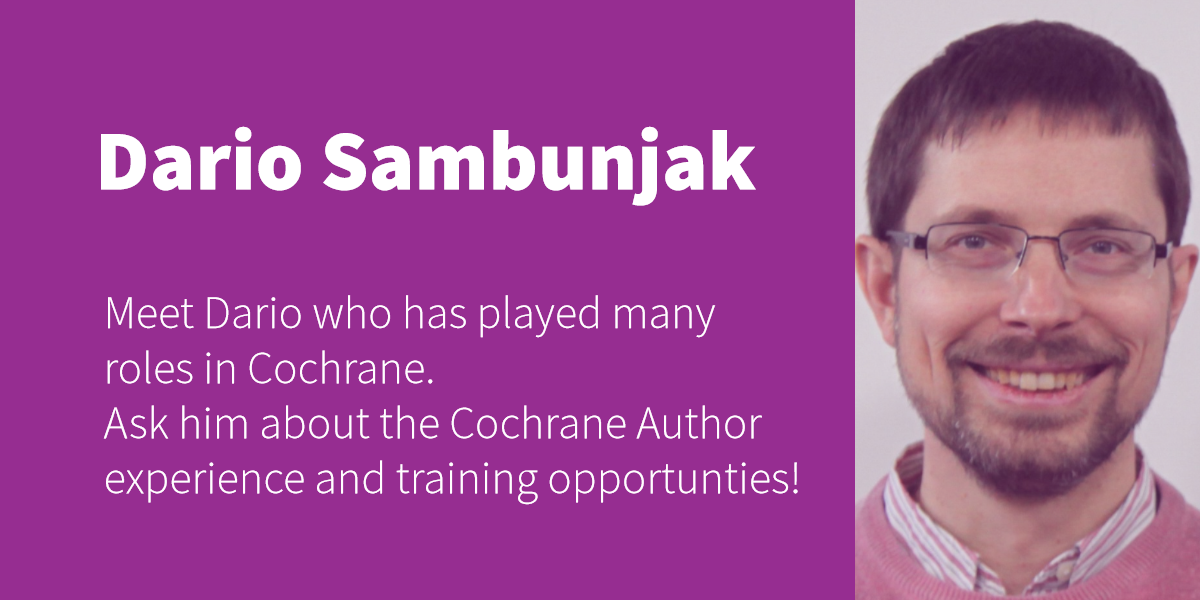 Name: Dario Sambunjak
Country: Croatia
Languages: English, Croatia
Role: Learning Content Officer, Cochrane Training
Will be at the Community Stand: Tuesday afternoon break, Thursday morning break, and  Thursday afternoon break
I have had many roles in Cochrane - Cochrane Croatia Branch Director, author of several Cochrane Reviews, Co-Chair of Colloquia Workshop Programme, and others. Currently I'm involved in developing and supporting training activities (mostly online, but also face-to-face) across the Cochrane community.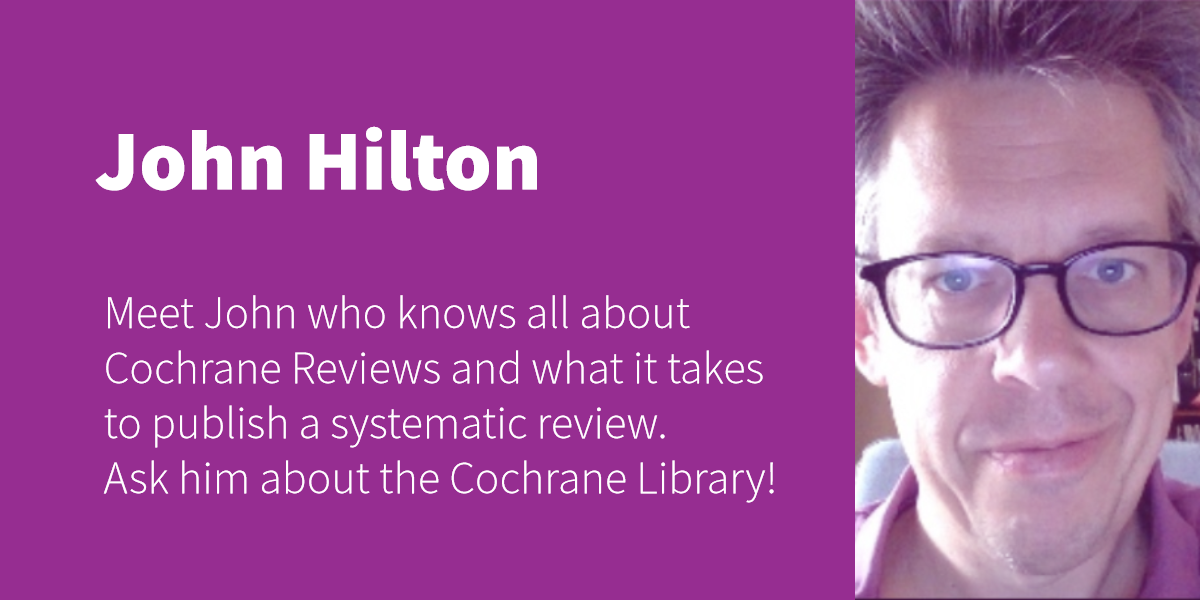 Name: John Hilton
Country: United Kingdom
Languages: English
Role: Senior Editor, Publishing Operations
Social Media: Twitter, Instagram
I work in the Editorial and Methods Department in the Cochrane Central Executive. Ask me about the Cochrane Library!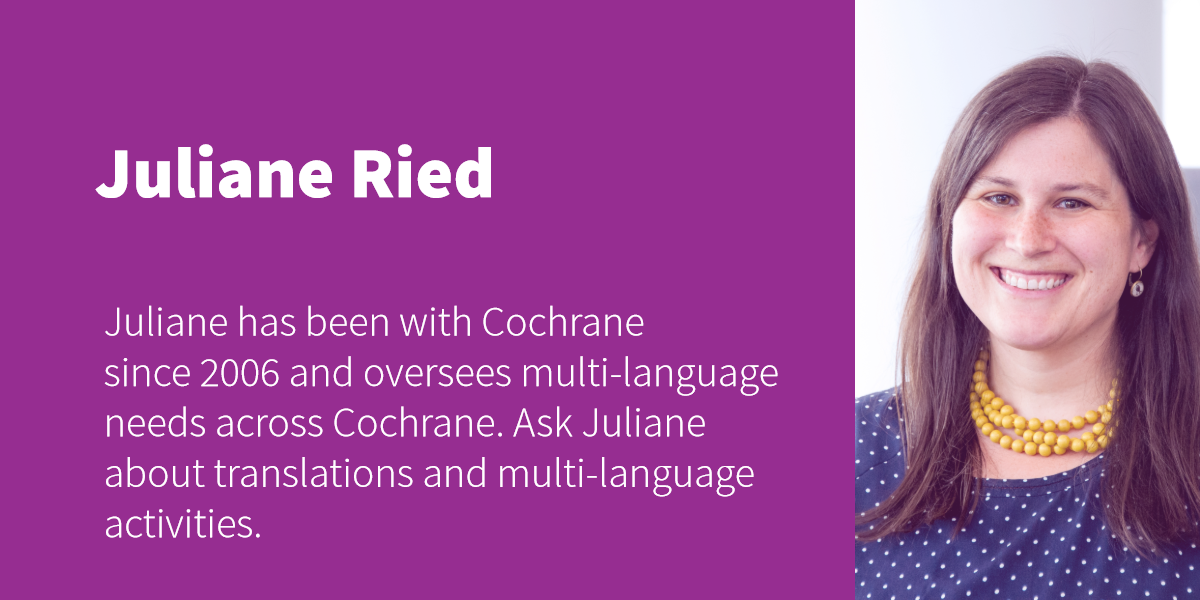 Name: Juliane Ried
Country: Germany
Languages: German, French, English,  and some Spanish
Role: Translations Co-ordinator
I have been with Cochrane since 2006. I  collaborate with more than 15 teams worldwide who are translating Cochrane Reviews into their local languages. I also represent multi-language needs across Cochrane. Ask me about translations and multi-language activities in Cochrane and how you can get involved!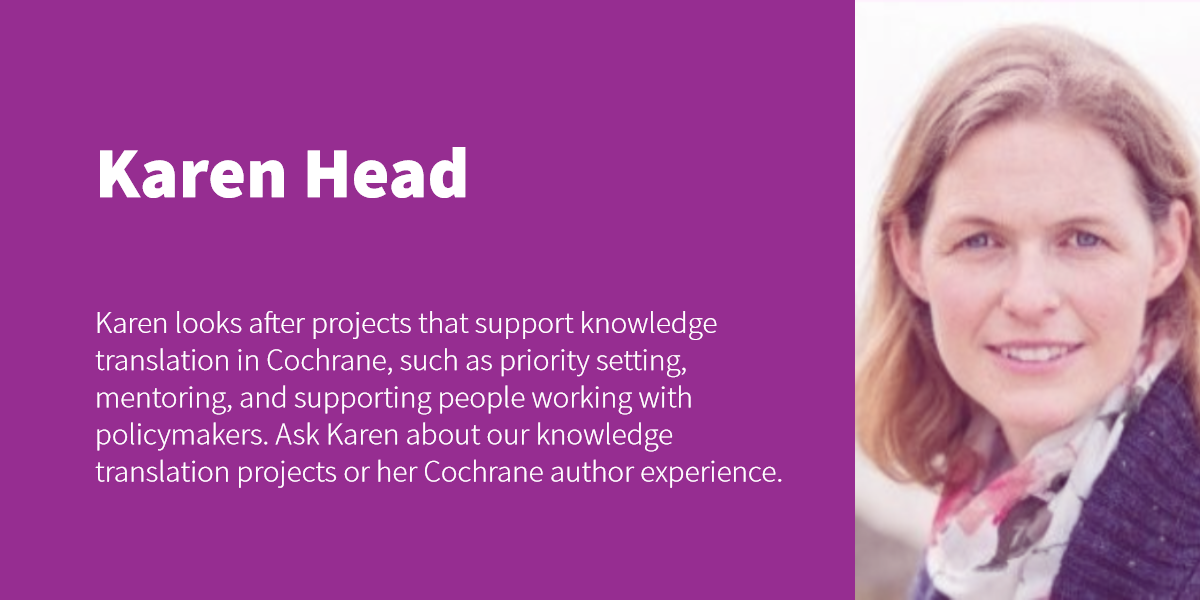 Name: Karen Head
Country: France
Languages: English
Role: Knowledge Translation Project Manager
Will be at the Community Stand: Wednesday Morning Break, Wednesday Afternoon Break, Thursday Morning Break
I'm the KT Project Manager looking after projects to support knowledge translation in Cochrane such as priority setting, the NEW! dissemination checklist, KT mentoring, and supporting people working with policymakers. Ask me about any of the central KT projects and website, my author experience, or just come and have a chat!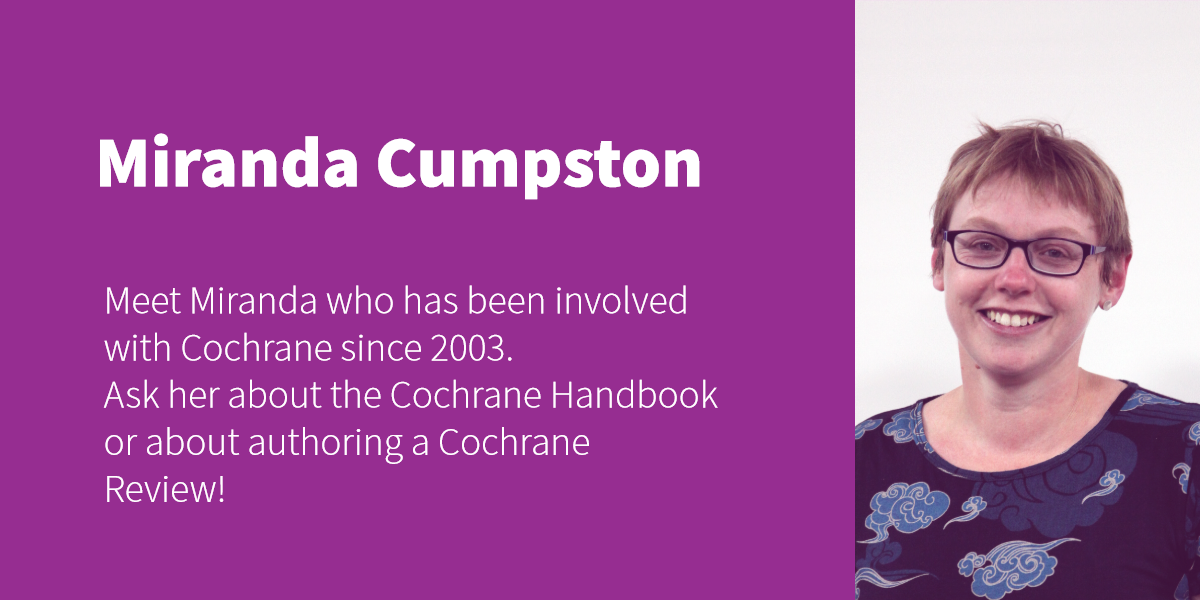 Name: Miranda Cumpston
Country: Australia
Languages: English
Role: Handbook Editor, Cochrane Public Health Editor
Social media: Twitter
I've been involved with Cochrane since 2003, primarily as a trainer for Cochrane authors and also as an editor. Recently I've been involved in editing the new edition of the Cochrane Handbook - ask me about the Handbook or about authoring a review.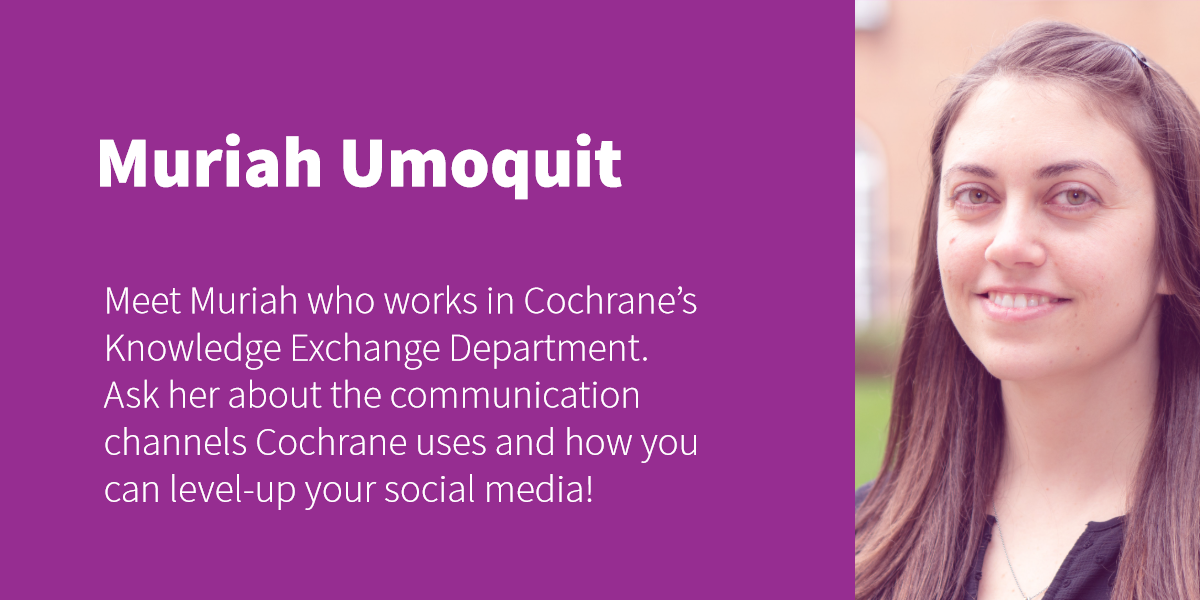 Name: Muriah Umoquit
Country: Canada
Languages: English
Role: Communications and Analytics Officer, Knowledge Translation Department
Social Media: Twitter, Facebook, Instagram, LinkedIn
I oversee the many internal and external communication channels that Cochrane uses – from newsletters to Instagram. Lets chat about how you are sharing health evidence and how to best reach your intended audience.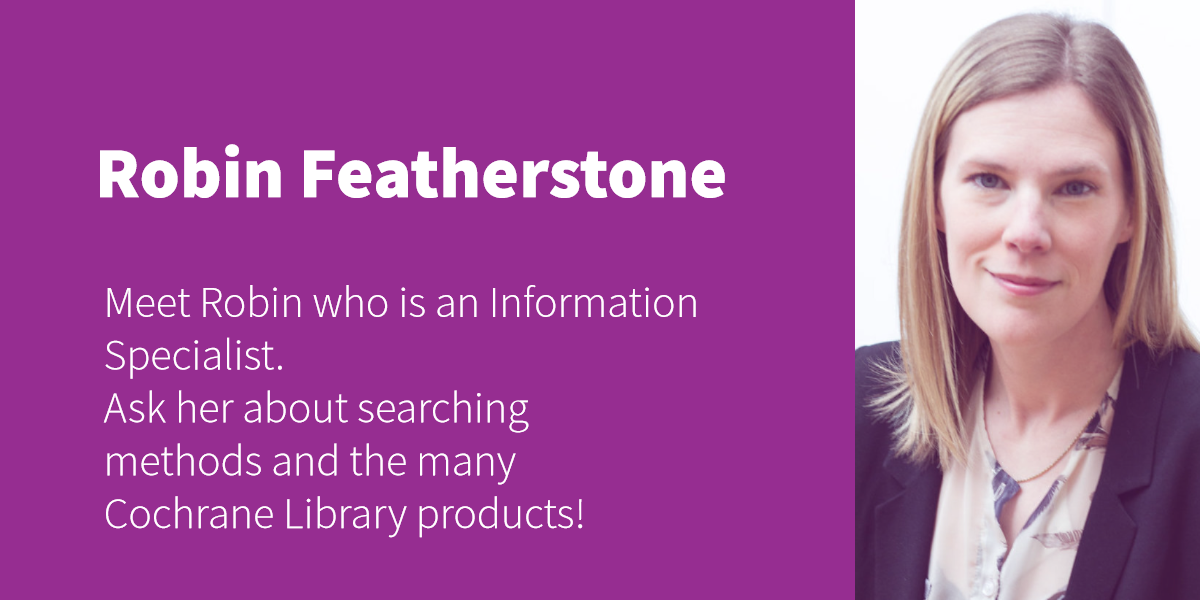 Name: Robin Featherstone
Country:  Canada
Languages:English
Role: Information Specialist
Social media: Twitter
I'm an Information Specialist for the Editorial & Methods Department in the Central Executive. Ask me about Cochrane Library, CENTRAL, Cochrane Register of Studies, anything about searching methods to support Cochrane reviews, or about the role of Information Specialists in Cochrane.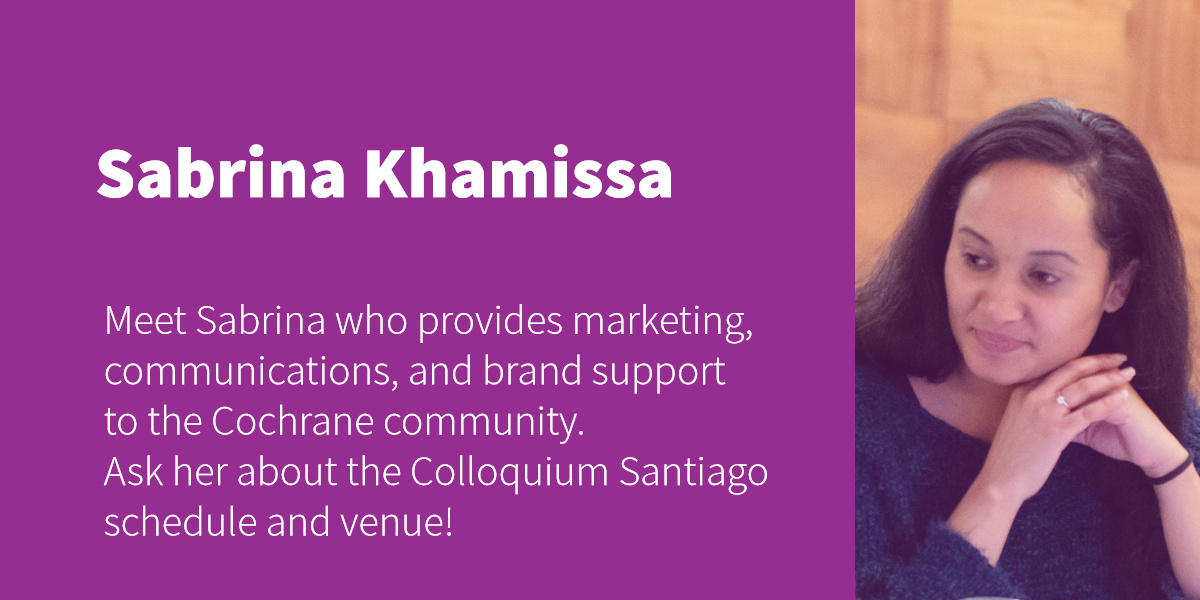 Name: Sabrina Khamissa
Country:  United Kingdom
Languages: English
Role: Events and brand Support Officer, Knowledge Translation Department
I'm the Events and Brand Support Officer for Cochrane. I help Cochrane Group's host the Colloquia and Governance Meetings. I also provide marketing, communications and brand support to the community. This will be my first Colloqium! I can support attendees with general information about every aspect of the Colloquium and venue. I can also point you in the right direct for which group/person to speak to, if you need to make contact with some, need advice or want to find out more about a particular project.
More profiles of Cochrane Community members helping at the Colloquium Exhibition Stand to be added!