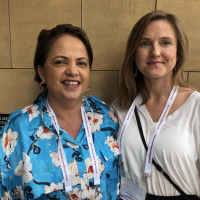 Today, a new Cochrane entity, which will focus on tackling medical excess, launches at the annual Preventing Overdiagnosis Conference in Sydney. Cochrane Sustainable Healthcare will advocate and promote the use of evidence to ensure a more sustainable approach to healthcare.

The new Cochrane Field aims to become a hub that will foster, support and coordinate research in collaboration with patients, healthcare professionals, researchers, policymakers and carers, positioning Cochrane as a place to acquire the latest and most reliable evidence on responding to challenges of sustainability in healthcare systems.
 
Medical excess, which includes overuse of medical diagnostics and treatments, threaten the health of individuals and the sustainability of health systems in many countries. Unnecessary tests, treatments and diagnoses bring direct harms to people through adverse effects of interventions, psychosocial impacts of labelling people as diseased, and overwhelming treatment burden. Medical excess also consumes scarce resources leading to underdiagnosis and underuse in other areas, indirectly harming patients.

Tackling the crisis of medical excess, reducing harms and winding back waste will make global health systems more sustainable. These are the principles that will underpin the work of the new Cochrane Sustainable Health Field.

Cochrane Sustainable Healthcare is one of 13 Fields at Cochrane and joins a global independent network of volunteers, professionals, patients, carers and people interested in contributing to evidence-based health.

Like other Cochrane Fields, Cochrane Sustainable Healthcare will focus on dimensions of healthcare other than a condition or topic by aiming to strengthen the link between primary research, evidence synthesis, policymaking and practice in relation to issues of medical excess and sustainability of healthcare. Cochrane Sustainable Healthcare will be led by Minna Johansson, PhD, a general practitioner based at Herrestads Healthcare Centre, Uddevalla, Sweden and researcher at Cochrane Sweden.


Speaking at the Preventing Diagnosis Conference in Sydney, Australia, Director Minna Johansson says, "Many nations face huge challenges in terms of unsustainable health systems with sharp increases in costs, limited human resources and most importantly – harms from medical excess to individual patients. The situation is urgent and the need for novel approaches to tackle these issues is increasingly recognized. Preventing Overdiagnosis is a superb platform from which to launch the Cochrane Sustainable Healthcare. We are grateful to the organizers for this opportunity. Also, I am so pleased with the support we have received so far within the Cochrane community and from external organisations and people from across the world."

During the keynote session at the Preventing Diagnosis Conference, Cochrane's Editor in Chief, Karla Soares-Weiser commented, "Advocating for sustainable healthcare is at the heart of what Cochrane seeks to do, so that healthcare decisions are based on evidence. We are excited to welcome this new Cochrane Field into our global and diverse collaboration of supporters and members. This new Field will contribute to our Cochrane community in gaining insight and guidance and build on our understanding of how healthcare excess can be addressed in the production and dissemination of Cochrane Reviews."

If you would like to know more about how you can get involved in Cochrane's Sustainable Healthcare, contact the Director Minna Johansson and the Field Coordinator Dina Muscat Meng.
Saturday, December 7, 2019