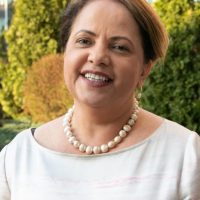 The Governing Board is delighted to announce that, with effect from 1 June 2019, Dr. Karla Soares-Weiser will become the new Editor in Chief of the Cochrane Library. Karla will replace current Editor in Chief Dr. David Tovey, who is stepping down from the role at the end of May following ten years of distinguished service.
Karla Soares-Weiser was born in Brazil and now lives in Israel. She is a trained psychiatrist, holds a Master's degree in epidemiology, and a Ph.D. in evidence-based healthcare from the University of São Paulo. She has been working in evidence-based health care since 1997 and is an author of over 60 Systematic Reviews, including 33 Cochrane Reviews. She has held numerous positions in Cochrane Groups, including as a Visiting Fellow at the IberoAmerican and UK Cochrane Centres, where she provided training in systematic review production. Outside Cochrane she has held Assistant Professor posts in Brazil and Israel, and established her own consultancy business providing evidence synthesis services to government agencies and not-for-profit organizations. She was instrumental in the development of Cochrane Response, the organization's evidence consultancy service; and in 2015 was appointed Cochrane's first Deputy Editor in Chief. Since 2016 she has been leading the transformation programme of Cochrane Review Groups into Networks, and in 2017 became Acting Editor in Chief for four months during David Tovey's leave on health grounds.
Karla was appointed following an extensive recruitment process led by a recruitment panel made up of Martin Burton and Marguerite Koster (Governing Board Co-Chairs), Fergus Macbeth (Council Co-Chair), Nicky Cullum (Co-ordinating Editor and Board member), Chris Eccleston (Senior Editor, Cochrane Mental Health and Neuroscience Network), Ginny Barbour (Chair of the Cochrane Library Oversight Committee, founding Editor of PLOS Medicine and Chair of the Committee on Publication Ethics (COPE)) and Mark Wilson (CEO). "Karla competed in a strong, international field, in what was a rigorous and challenging recruitment process. Her appointment comes with the unanimous support of the Recruitment Advisory Panel and the full Governing Board" said Martin Burton. "Karla's appointment is indicative of the strength and depth of talent we have in the Collaboration, and the Governing Board is delighted to be in a position to appoint from within the organization for this key role. We look forward to Karla implementing her vision to develop the Cochrane Library in support of Cochrane's strategic goals."
Mark Wilson, Chief Executive Officer, welcomed Karla's appointment: "Karla's deep knowledge of systematic reviews and the wider healthcare evidence landscape, and her expertise in the methods and challenges of synthesized evidence mean she is well-equipped to become Cochrane's new Editor in Chief. Her passion for Cochrane and deep commitment to its ethos, principles and mission are well known by everyone who works with her; and she is already a valued member of Cochrane's Senior Management Team with a proven record of leading change and supporting our global community of collaborators. We are looking forward to working with her in her new leadership role."
Of his successor, David Tovey said: "Karla has done a fantastic job supporting me as Deputy Editor in Chief, and has also made a major contribution to Cochrane over many years. I am completely confident that she will be an enormous success in her new role, and wish her all the best in leading the next phase of the development of the Cochrane Library."
Following her appointment, Karla reiterated her vision for the Cochrane Library: "to improve health care decision making by consistently publishing timely, high priority, high-quality reviews responding to the needs of our end-users. I am committed to working with the Cochrane community to achieve this vision, strengthening diversity, and striving for an excellent author experience."
On behalf of Cochrane's Governing Board, we invite you to join us in welcoming Karla to this important leadership role in Cochrane.