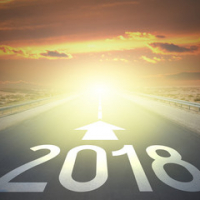 While we're almost at the end of January already, it is still well worth reflecting on Cochrane's achievements in 2017 and what lies ahead for the organization. 2018 promises to be another exciting year of transformation and change as we increase still further our capacity to produce and disseminate high-quality evidence to impact health decision making around the world.
We can be enormously proud of our achievements in 2017. Use of Cochrane's evidence from our organizational website, Cochrane.org, continued its phenomenal growth, with visits rising by another 49% to 15 million (from 10 million in 2016 and 5.7 million in 2015), peaking in Quarter 4 at 4.24 million indicating that further growth will be seen in 2018. Total demand for evidence from the Cochrane Library was up by 11.8%, with pdf downloads of Cochrane Reviews up by 23% from 2016. Review production again fell slightly (to 406 Reviews, 321 Updates and 426 Protocols) but analysis showed continued improvements in the quality and timeliness of priority titles and our new Rapid Review pilot was very successful. Of the ten 2017 strategic targets we set for ourselves over 12 months ago, nine were achieved – with only the launching of the new Enhanced Cochrane Library platform delayed until the end of March. We are seeing demonstrable success, therefore, in achieving our fundamental goals and in delivering our ambitious Strategy to 2020. I hope you can see and appreciate these changes; and there were many highlights in 2017 reflecting the transformation of Cochrane that is taking place.
Cochrane South Africa hosted the first ever Global Evidence Summit in September, which was a huge success attended by more than 1,300 people from 75 countries, marking the first time that Cochrane joined forces with multiple partner organizations to create a premiere event in evidence-based policy. Cochrane's new membership scheme was launched, which will help us attract new supporters and members with a wider range of experience and skills into our work, allow us to recognize their contributions, and sustain and expand our global activities. New Centres and Affiliates were established extending Cochrane's geographic reach and influence to new countries and regions. At the Global Evidence Summit, we held our first Annual General Meeting (AGM) under Cochrane's new Articles of Association, with every member entitled to one vote, and led by our new-look Governing Board. At the AGM members of the community provided their own perspectives on what will define a successful Strategy to 2020. I encourage you to watch the wonderful video series from that event if you were not there in person, including the flagship presentation on success in 2017. 
In the same month the first phase of Cochrane Interactive Learning was launched, providing over 10 hours of self-directed learning on the complete systematic review process for both new and experienced review authors. The Governing Board approved the implementation plan for Cochrane's new Knowledge Translation framework, with the aim of making Cochrane's evidence more relevant and accessible to, and used by, users. And of course, the Cochrane Review Group Transformation Programme, perhaps Strategy to 2020's most important change initiative, began its implementation phase, with eight new CRG Networks being launched later this month. The establishment and development of the CRG Networks will remain an important focus for the organization in 2018 and will feature prominently at the strategic session of Cochrane's Governance Meetings in Lisbon in April. For those Cochrane members planning to attend, please make sure you sign-up to these meetings by 4 March 2018.
A full 2017 Annual Report and Dashboard of progress against our Strategy to 2020 targets last year will be released within the coming weeks. Against this background of organizational success, I wanted to remind you that you have the opportunity to celebrate individual achievement by nominating a colleague for the Chris Silagy Prize, which recognizes those who make an extraordinary contribution to Cochrane.
Looking ahead to 2018, I am delighted to let you know that the Governing Board has approved five Strategy to 2020 Targets this year. Together the Central Executive Team and Cochrane community will:
Form eight new Cochrane Review Group Networks, and begin implementation of Network plans and improved ways of working together.
Complete the new standardized technology workflow for Cochrane Review production.
Agree Cochrane's future priority review types, methods and data sources through the development of a 'content strategy', and begin associated implementation activities.
Deliver more features and enhancements of the Cochrane Library after its re-launch.
Build capacity and engagement in Knowledge Translation activities across the organization.
You can read more about how the Targets will be delivered and access the supporting Plan & Budget for 2018 on the Cochrane Community website. We are three years away from the end of Strategy to 2020 and looking forward at what else we still need to do to achieve all of the defined measures of success that we have set for ourselves. We are introducing on 5th February a new look Central Executive Team structure that we think will better help Cochrane's members and supporters meet those objectives in the coming years, and the exciting changes establish two new Departments focusing on Knowledge Translation, and Membership, Learning & Support. More details on the changes will be available soon.
Let me end by thanking, once again, all Cochrane collaborators for their contributions to our work over the last twelve months, and in the coming year. We are hugely grateful for your enthusiasm and willingness to change and adapt to new ways of working to make Cochrane's evidence meet the needs of millions more patients, carers, clinicians, policymakers, researchers and others in 2018 and beyond.
With my very best wishes,
Mark
Mark G. Wilson
Chief Executive Officer